Hypnosis and Hypnotherapy Book

$31.95
"The Physical Book Not Available At This Time"
Now available in eBook formats:




Click the images to go to the store

Click to Read Text Version of this Video
Professional techniques and procedures for doing outstanding hypnosis using direct suggestion, convincers, covert testing, age regression and more. This is an exciting new hypnosis book for professional hypnotists who are using hypnosis in their work (or would like to).

It is highly organized and readable, and outlines and explains some of the most powerful and reliable hypnosis techniques and procedures available to the modern hypnotist. A treasure of over 180 Hypnosis Techniques and Procedures that lead to successful hypnosis including:
How to hypnotize every client.

How to show every client that he or she was hypnotized.

How to make your hypnotic suggestions more powerful than ever.

How to make each session 10 times more powerful than the last one.

How to covertly test your clients and use convincers that cannot fail.

How to expertly conduct age regression sessions that are successful.

How to work with overly-analytical, resistant or nervous clients.

How to amaze your clients and receive referrals from other professionals.
Click on graphics to enlarge and look inside.
About This Book
Table of Contents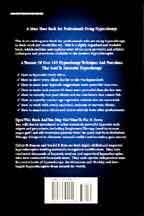 Click To Enlarge back cover

Marilyn Gordon, Cht
Author of, Extraordinary Healing
"This is a wonderful book. It is an important handbook for both students and experienced hypnotists, as it contains a wealth of knowledge and helpful information. This book is a significant contribution to the field of hypnosis..."

Roy Hunter, M.S., CHI
Author of, The Art of Hypnosis, and The Art of Hypnotherapy
"This new book is filled with valuable tips for hypnotists wishing to improve their competency. His approach is different from other books in that he provides one informative tip after another to help the serious student of hypnosis as well as the seasoned veteran of the art. I will be recommending this to my students."
About the Authors:

Calvin D. Banyan is the CEO and Supervising Hypnotist at The Banyan Hypnosis Center, Inc.,in Tustin, California. At The Banyan Hypnosis Center, Inc., he has conducted thousands of hypnosis sessions and supervised hypnotists who have conducted thousands more. His is one of the fastest growing practices and schools in the country. Holding both Bachelors (Summa Cum Laude) and Masters degrees in Psychology from the University of North Dakota, as well as publishing in the professional journals of the American Psychological Associaation and the American Psychiatric Association demonstrates his strong academic background which he brings to the practice of hypnosis. This is balanced with practical experience having worked in both private and government mental health facilities. The result is that Cal writes about a practical approach to doing hypnosis.
Gerald F. Kein is the director of the Omni Hypnosis Training Center in DeLand, Florida, where he maintains a highly successful hypnosis practice and professional training center. Having trained thousands of hypnotists nationally and internationally in over thirty countries, he is widely recognized as one of this country's leading instructors of clinical hypnotism. A graduate of Rollins College, Winter Park, Florida, Jerry holds a degree in education. He serves as Executive Director of the Florida Society of Professional Hypnotists. He is Vice President of Chapter 104 of the National Federation of Hypnotists and is active in legislative protection and creation around the country. He is also a contributing author to The Journal of Hypnotism, serves on the Advisory Board of the National Guild of Hypnotists and on the Certification Board of the National Guild of Hypnotists.
By Calvin D. Banyan and Gerald F. Kein