Volume 9: Cal Banyan Answers Hypnotists' Questions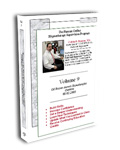 This special volume is dedicated exclusively to answering questions that Cal's graduates have emailed into him, or asked him during the Banyan Online Supervision Meeting. These are all practical and pertinent questions that his grads have about applying these advanced techniques to real hypnotic cases. Listen in and get the answers:
Sometimes I have to stop an age regression session before all of the work is completed, how do I get things started with the same kind of emotional intensity during the next session?
When I start a new session, what is the best way to take up where I left off? Would I use the affect bridge again?
How do I handle it if my client does not maintain somnambulism during the session?
How much releasing of emotion should I do before I begin the affect bridge?
How much emotional release should be accomplished when I work with each past event?
Help me to have a better experience when doing 7th Path Self-Hypnosis®, is it all right to use tape recordings?
More questions asked and answered!
Hosted by Calvin Banyan
2 CDs - Approx. 85 minutes - Audio Sample