Volume 8: The Banyan Star Business Model™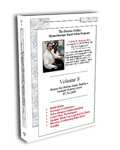 Learn how Cal Banyan has built one of the most successful hypnosis centers in America today. He will guide you through each step using his Star Business Model™ Cal says, "Boy if I only knew then what I know now, I could have been twice as successful in half the time!" Here are the details:
Find out what kind of training it takes to build a successful center.
Learn the difference between an office and a hypnosis center.
Learn about his top sales and marketing techniques.
Learn how to get hypnotists to work for you and to do it for almost nothing!
Learn why it is so important that you sell products (there's more to it than you might think)!
Learn why it is so important that you add training to your center's services!
Find out how to make all of these things work at least 4 times better than they would by themselves.
Bonus - Cal answers questions about this topic and questions about clients.
Hosted by Calvin Banyan
2 CDs - Approx. 96 minutes - Audio Sample