Volume 7: Removing Old Useless Anger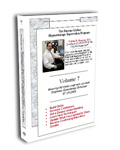 There is an advanced form of parts work called Forgiveness Work, which is integrated into the 5-PATH® system. This Forgiveness of Others Work is specifically designed to assist your clients in freeing themselves from the past, especially old useless feelings of anger. Here are some of the main points covered in this audio program.
Find out when anger is hurting your client.
Find out when to leave anger alone, for now.
Learn about the Holodeck of the mind.
How to select someone from your client's past to forgive.
How to handle unexpected situations.
How to get your client to fully express her feelings.
How to get your client to spend some time in the offender's shoes.
Learn about the 10 Keys to Forgiveness.
Learn the insider techniques so that you can get forgiveness every time.
How to determine if the anger is really gone.
Bonus - Cal answers attendees questions about their clients.
Hosted by Calvin Banyan
2 CDs - Approx. 98 minutes - Audio Sample