Volume 6: Deep Into the Informed Child Technique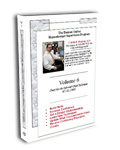 Cal goes deep into the process of doing the Informed Child Technique, the most important part of any age regression process on this CD. He clears it all up and shows why he is simply one of the best instructors out there!
Learn exactly what the Informed Child Technique is and how to do it expertly.
Learn why it should be done and when it should be done.
Learn exactly how to work with ISEs, SPEs, SSEs and FREs.
Learn how to be confident that you have found the real cause of the problem.
Learn how to neutralize the cause of the client's issues.
Learn when changing your client's history is and is not permissible.
Learn how to confidently check your client to know if the work has been successful.
Hosted by Calvin Banyan
2 CDs - Approx. 91 minutes - Audio Sample