Volume 3: Dealing With Anger With AR & FOO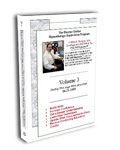 Cal explains how anger can cause so many of the problems that your clients are experiencing and why direct suggestion alone cannot do the full job of releasing the client from the problem, as well as giving you the tools to get it done.
Learn how all feelings come from our perceptions.
Learn what perception causes anger.
Learn how to remove old feelings of anger using age regression and forgiveness.
Learn how The Secret Language of Feelings helps with age regression and forgiveness.
Learn when we should just let our clients feel anger.
Learn how having clients fully express their emotions creates the change & even can heal.
Hosted by Calvin Banyan
2 CDs - Approx. 83 minutes - Audio Sample