Volume 20 Part 4: 5-PATH® with Weight Loss Clients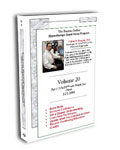 One of the most important issues for most hypnotists, helping clients to lose weight. Helping clients lose weight and stop smoking are the "bread and butter" of most hypnosis practices. This topic provides an excellent opportunity to examine the 5-PATH® program in detail.
Special issues to consider.
Client expectations.
Complete weight loss scripts.
What to bring up in AR.
Much more!
Hosted by Calvin Banyan
Approx. 80 minutes - Audio Sample