Volume 19: Hypnosis with Children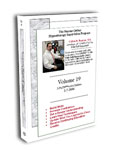 Children can help your hypnosis practice in many different ways, and helping them before an ISE sabotages their lives is great too! Cal Banyan teaches you what to do when a curtain climbing, crumb snatching lawn monster walks into your office.
How to include parents in the process.
Why kids are great hypnotic subjects.
How to talk to certain age groups while they're in hypnosis.
Using waking suggestions with kids.
Much more!
Hosted by Calvin Banyan
Approx. 94 minutes - Audio Sample