Volume 18: Teaching 7th Path Self-Hypnosis® to 5-PATH®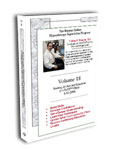 Cal Banyan answers all of your questions about integrating the 7th-PATH self-hypnosis® system into your 5-PATH® sessions. Many of you have requested we cover this topic, so, as is the case with the rest of the Banyan On Line Supervision Meetings, we've pulled out all the stops to let you know the ins and outs of introducing your 5-PATH® clients to the 7th-PATH® system.
Which Recognitions work best with each phase of 5-PATH®.
How to determine whether or not your client will be interested in learning 7th-PATH®.
How to adapt 7th-PATH® for use with non-spiritual clients.
When and how to let your client practice bringing themselves into and out of hypnosis.
How the Full, Advanced, and Ultimate forms of the Recognitions come into play.
Much more!
Hosted by Calvin Banyan
Approx. 100 minutes - Audio Sample