Volume 17 Part 3: Case Study of Using Hypnosis to Stop Smoking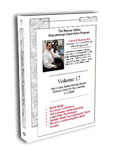 In the final part of this series, Cal Banyan and hypnotist Julie Zappa dig down into the final phases of the 5-PATH® process. No detail is spared from this case study! Anything and everything that goes on in "the chair" is gone over point-by-point to give you the best inside look at how 5-PATH® for smoking cessation is done.
Complete case study of a 5-PATH® stop smoking client.
Hypnotist training outline for smoking cessation.
How and why 5-PATH® is a universal solution for hypnosis.
Cal Banyan answers questions about clients who are slow to revivify and
Much more!
Hosted by Calvin Banyan
Approx. 101 minutes - Audio Sample