Volume 17 Part 1: Case Study of Using Hypnosis to Stop Smoking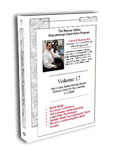 This edition of the Banyan Online Supervision Meetings delves into the ever-pertinent topic of smoking cessation! In the first part of this multi-part series, the Hypnosis Center's newest permanent hypnotist Gregory Hoffman takes us step-by-step through a two-session stop smoking client's time in the chair. But before he gets started, Cal Banyan presents the hypnotists' two-session smoking cessation outline, giving you a reliable road-map of how to deal with two- and multi-session stop smoking clients. Included in this volume:
Complete case study of a two-session stop smoking client.
Hypnotist training outline for smoking cessation.
How to decide between clients that only need two sessions versus a full-fledged 5-PATH® approach.
How to customize a stop smoking session to best suit the client's needs.
Cal Banyan answers mailed-in questions about past-lives and in-session time management.
Much more!
Hosted by Calvin Banyan
Approx. 81 minutes - Audio Sample