Volume 15: Maximizing Past-Life Regression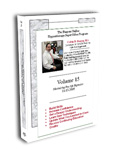 What do you do when you're in the middle of an age regression and all of a sudden you're client goes from Bob to Sally? How do you handle those spontaneous past-life regressions? With over a thousand hypnosis sessions under his belt, Cal Banyan has been there and back. In this Banyan Online Supervision Meeting, he tells you how to come out on top when dealing with out-of-the-blue past-life regressions.
How to get the most out of past-life regressions sessions.
Keeping your client's needs first.
Techniques to avoid leading the client.
What to do with past-life regression requests.
Maximizing the effectiveness of a spontaneous past-life regression.
Much more!
Hosted by Calvin Banyan
2 CDs - Approx. 88 minutes - Audio Sample