Volume 14 Part 3: What The Pros Know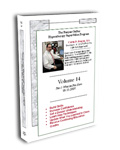 Cal Banyan takes this opportunity to get into the "nitty gritty" as he discusses the questions that the pros ask him, as well as what he is teaching the interns at his center. Learn about the techniques that make the best 5-PATH® hypnotists so successful with such a wide range of issues!
Why the PTC Phase is so important and what you can do to make it really work.
What are the most important things you must know about the client before you start and what you must ignore.
How to make problems like, when your client suddenly opens her eyes during an induction, work FOR you instead of against you.
What words should be avoided in the pre-hypnosis interview!
Why you should move through your sessions at a rapid rate.
Learn exactly the right tone of voice to use for making your suggestions.
Learn the Fantastic Five Questions that must be asked during every age regression.
Learn what emotions must be neutralized and which ones must be left alone!
Learn the Drilling Down Technique to get at their real emotions behind the problem.
Learn what parts of a client's report in age regression is reliable and what is not.
How learning The Secret Language of Feelings can make your session much more successful.
There is just so much more in this multi-volume series. Take a listen to the audio samples to get an idea of how jam-packed these CDs are.
Hosted by Calvin Banyan
Approx. 95 minutes - Audio Sample