Volume 10: Session & Client Management Skills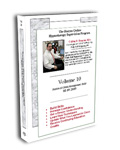 How long should your sessions be? One hour? An hour and a half or two? Cal Banyan talks to his subscribers about how to manage time with clients under a number of conditions, along with dealing with other issues regarding how to be more effective and successful with clients!
Learn how much time to schedule if you are new, or experienced, working with adults or children.
Learn how to determine when you are really done with each phase with each client.
Stop being fooled by the client's perception of the cause of the problem and save yourself a lot of frustration.
Learn how to determine your client's problem has an Initial Sensitizing Event (ISE).
Stop making assumptions about the cause of the problem and get to the source.
How to get clients to come back when embarrassing information comes up in an age regression session.
More!
Hosted by Calvin Banyan
2 CDs - Approx. 116 minutes - Audio Sample