Banyan Online Supervision Meetings CDs (BOLSM)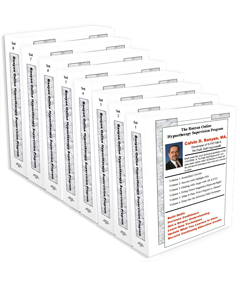 Now you can get the entire library of Cal Banyan's, Banyan Online Supervision Meeting CDs in one package! This package set includes all 22 volumes and each of their parts (40 weeks worth of online supervision meetings). Pick and choose which ones you want to listen to first!
Volume 1: Scrambled 5-PATH®
Learn to masterfully customize your sessions using age regression, forgiveness work, and parts work together.
Volume 2: Success With Multiple ISEs
No other hypnosis trainer goes into any depth about how to handle clients who have multiple ISEs with multiple emotions contributing to the problem.
Volume 3: Dealing with Anger with AR & FOO
Cal explains how anger can cause so many of the problems that your clients are experiencing and why direct suggestion alone cannot do the full job of releasing the client from the problem, as well as giving you the tools to get it done.
Volume 4: Doing Direct Suggestion Hypnosis Right!
So much of the work of hypnosis depends on direct suggestion work, and on this advance online supervision meeting, he lets everyone in on just how to make direct suggestion hypnosis much more powerful!
Volume 5: What If They Won't Regress or Abreact?
Once you begin using these advanced techniques you need some advanced tools to make sure that you can use them. Cal tells you what you need to know to make it work, virtually every time!
Volume 6: Deep Into the Informed Child Technique
Cal goes deep into the process of doing the Informed Child Technique, the most important part of any age regression process on this CD. He clears it all up and shows why he is simply one of the best instructors out there!
Volume 7: Removing Old Useless Anger with Advanced Forgiveness Hypnosis Techniques
There is an advanced form of parts work called Forgiveness Work, which is integrated into the 5-PATH system. This Forgiveness of Others Work is specifically designed to assist your clients in freeing themselves from the past, especially old useless feelings of anger. Here are some of the main points covered in this audio program.
Volume 8: Banyan Star Business Model™: Building a Successful Hypnosis Center
Learn how Cal Banyan has built one of the most successful hypnosis centers in America today. He will guide you through each step using his Star Business Model™.
Volume 9: Cal Banyan Answers Hypnotists Questions
This special volume is dedicated exclusively to answering questions that Cal's graduates have emailed into him, or asked him during the Banyan Online Supervision Meeting. These are all practical and pertinent questions that his grads have about applying these advanced techniques to real hypnotic cases. Listen in and get the answers.
Volume 10: Session & Client Management Skills
How long should your sessions be? One hour? An hour and a half or two? Cal Banyan talks to his subscribers about how to manage time with clients under a number of conditions, along with dealing with other issues regarding how to be more effective and successful with clients!
Volume 11: Going Beyond the 4 to 6 Session Schedule
Every client is different and a cookie-cutter approach just doesn't cut it. Cal Banyan takes the group beyond the 4 to 6 session paradigm commonly associated with 5-PATH® and discusses the many factors that can lead to having to spend more time with a client.
Volume 12: Negative Spiritual Issues in a Professional Practice (Two Parts)
Cal Banyan goes where few professional hypnotists dare to go and talks about the many strange things that can arise in your sessions, including spiritual attachments and dark force energies. He is also joined by Bill Lukas, who is an expert in this area and extends the discussion to some even stranger circumstances.
Volume 13: 100+ What-Ifs (Four Parts)
This is the one volume that has been requested by more graduates than any other volume! Cal Banyan sits down and goes through some of the most common questions asked by his students and grads over the years. And, Cal takes all the time necessary to thoroughly answer each question. If you only get one volume from this set, this is the one you need to own. All the What-If for each of the 5 Phases and more, including...
Volume 14: What the Pros Know (Five Parts)
Cal Banyan takes this opportunity to get into the "nitty gritty" as he discusses the questions that the pros ask him, as well as what he is teaching the interns at his center. Learn about the techniques that make the best 5-PATH® hypnotists so successful with such a wide range of issues!
Volume 15: Maximizing Past-Life Regression
What do you do when you're in the middle of an age regression and all of a sudden you're client goes from Bob to Sally? How do you handle those spontaneous past-life regressions? With over a thousand hypnosis sessions under his belt, Cal Banyan has been there and back. In this Banyan Online Supervision Meeting, he tells you how to come out on top when dealing with out-of-the-blue past-life regressions.
Volume 16: Case Study of Using Hypnosis for Tremors and Anxiety (Two Parts)
In this season finale of the Banyan Online Supervision Meetings, Cal opens the floor for Kristin, the supervising hypnotist at the Hypnosis Center. During the meeting, Kristin explains the steps that she took in great detail to give you an incredibly in-depth look at how 5-PATH® progresses step-by-step. The first part of this multi-part series deals with Mary, a teenager with chronic headaches and a doctor's referal to the Hypnosis Center. Nothing is left out in the explaination of how Kristin has progressed with the client.
Volume 17: Case Study of Using Hypnosis to Stop Smoking (Three Parts)
This edition of the Banyan Online Supervision Meetings delves into the ever-pertinent topic of smoking cessation! In the first part of this multi-part series, the Hypnosis Center's newest permanent hypnotist Gregory Hoffman takes us step-by-step through a two-session stop smoking client's time in the chair. But before he gets started, Cal Banyan presents the hypnotists' two-session smoking cessation outline, giving you a reliable road-map of how to deal with two- and multi-session stop smoking clients.
Volume 18: Teaching 7th-PATH Self-Hypnosis® to 5-PATH® Clients
Cal Banyan answers all of your questions about integrating the 7th-PATH self-hypnosis® system into your 5-PATH® sessions. Many of you have requested we cover this topic, so, as is the case with the rest of the Banyan On Line Supervision Meetings, we've pulled out all the stops to let you know the ins and outs of introducing your 5-PATH® clients to the 7th-PATH™ system.
Volume 19: Hypnosis with Children
Children can help your hypnosis practice in many different ways, and helping them before an ISE sabotages their lives is great too! Cal Banyan teaches you what to do when a curtain climbing, crumb snatching lawn monster walks into your office.
Volume 20: 5-PATH® with Weight Loss Clients (Six Parts)
One of the most important issues for most hypnotists, helping clients to lose weight. Helping clients lose weight and stop smoking are the "bread and butter" of most hypnosis practices. This topic provides an excellent opportunity to examine the 5-PATH® program in detail.
Volume 21: Phase V: Parts Mediation Work™
For most hypnotists, the first four phases is all that you will regularly do with your clients. Parts Medation Work™ (PMT) is used only in cases where there are significant levels of internal confilct regarding making the change that brought your client in to see you. This confilct is usually caused by what psychologists call Secondary Gain.
Volume 22: The Secret Language of Feelings (Three Parts)
One of the biggest surprises that the interns and our permanent hypnotists experience during our supervision meetings is how important it is to really understand The Secret Language of Feelings (SLF), and how that understanding transformed them into much more effective hypnotists. So, that's what Cal does. He applies the SLF to hypnosis in a way that goes deeper than he was able to do in class.